Food and Beverage
Reliable Bakery Systems Engineering
Integrated and Automated Solutions for Food and Beverage Industries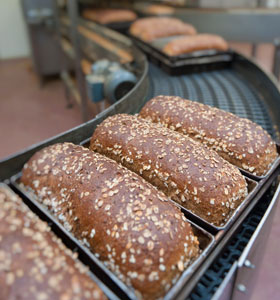 QDS Systems has been providing engineered system solutions to the food and beverage sector since 1996. As a licensed professional engineering firm and licensed electrical contractor we focus on end-user safety and reliability of operations, ensuring our clients receive a system that will safely deliver rated capacity with a long, trouble-free service life.
Our lean systems engineering capability and vast knowledge of the industry allow us to package reliable and easy-to-maintain systems for food processing including bulk ingredient storage silos and tanks; pneumatic and liquid transfer systems; minor ingredient automation and tracking; production management software including recipe management, batch scheduling, and lot tracking; and all related batching system controls and instrumentation. In the baking industry we've provided continuous dough control systems, bread oven control systems and have retrofit and upgraded major OEM control systems throughout the bakery from mixers to packaging lines.
Lean systems engineering at QDS Systems reduces maintenance costs, simplifies operations, and helps ensure greater efficiencies in costs and time through:
increased product consistency and quality
greater production and OEE rates
heightened focus on safety and environmental sustainability
enhanced scheduling and reporting
Call to Action Block
QDS Systems is particularly experienced in the baked foods industry, where we have provided systems, service, and support for all types of controls, instruments, and systems provided within bakeries.

Whether your company is looking to increase product capabilities, upgrade legacy systems, or expand plant capacity, QDS has the expertise you need in providing turnkey bakery systems engineering – all with minimal interruption to your normal schedule.