Panel Fabrication
Outstanding Panel Fabrication Services
Save time and money with expert panel installation services from QDS Systems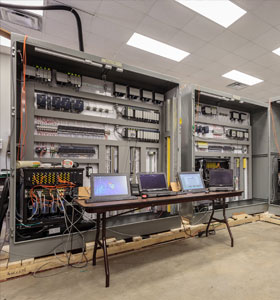 No matter what your industry needs, QDS Systems is your one-stop-shop for all panel fabrication services. Our panel experts have been providing smart, high quality solutions to our customers since 1996. With experience working with industries ranging from water treatment plants to steel suppliers to petrochemical industries, QDS Solutions offers panel fabrication services that meet all needs and get businesses back to doing what they do best.

With QDS System's panel fabrication expertise, we can find a resolution for any problem. For companies needing normal service life in difficult conditions like elevated temperatures, corrosive settings, outdoor conditions or classified environments, we offer electrical/control systems in environmental closures. We provide integrated safety-rated electrical/control systems for pre-fab buildings that greatly cut installation costs, time and commission. As well, we have variable frequency drives (VFDs) that are enclosed for outdoor applications to 500HP and can be cooled without the use of high-maintenance air conditioners.
QDS Systems has panel fabrication services expertise in many areas including:
UL 508/698 panel design, fabrication and installation
pre-fab electrical/control building assemblies
MCC/control/drive system integrated construction
pump panel and RTU/wireless construction
computer and network data center type rack assemblies, and
console assemblies and motor control assemblies (starts, soft starters, drives)
Call to Action Block
QDS Systems provides detailed design and fabrication for everything related to UL508 and 698 electrical panels including control devices and consoles, PLC, PAC and DCS systems, drives, motor control, pump control panels, bubbler level control panels, SCADA RTU telemetry, computer network cabinets, VHF/UHF/spread spectrum (radio, WiFi, cellular, leased line), computer network cabinets, MCC integrated designs, generator/ATS/swithchgear transfer systems, and pre-fab building integrated electrical power and control designs.

Our customers know that QDS Systems delivers only the best panel fabrication services. In addition to our competitive pricing, our UL508 and 698 certifications and our CSIA-certified status ensures our work comes with a guarantee of design integrity, consistent quality and on-time delivery.