Engineered Drive Systems
For a Quality Solution
Solutions designed for reliability and short mean time to repair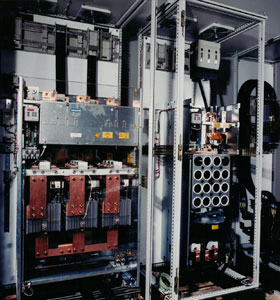 Let QDS Systems package a turnkey solution for your engineered drive system. With our broad knowledge of major manufacturers' drive systems, we can combine one manufacturer's drives with another's process systems and select the best-value hardware for your organization's specific needs. Whether the system is DCS, PLC and PC-based master control or motor controls, we can provide a cost-effective solution for your organization.

We are particularly knowledgeable concerning the process industries, including coordinated web process drive systems.
QDS Systems has provided engineered drive systems for:
spin and fiber lines
film lines
paper machines
surface winders
automated sample analyzers
ocean-going pipe-laying barge winch control systems
galvanizing lines
steam press Tempsonic hydraulic positioning systems
LIW and gravimetric feeder systems
and more.
QDS Systems provides engineered drive system solutions designed for reliability. We have expertise in:
retrofitting and updating obsolete and aging drive and related control systems
designing common bus DC and other regenerative drive system designs
converting DC drive systems to all AC or hybrid AC/DC systems
converting older analog drive coordinated systems to new digital designs, and
integrating high-speed communication networks, distributed processor design and integrated safety systems together with MCC packaging
Call to Action Block
We understand that cutover of retrofit systems needs to be carefully planned and completed often within a narrow time span. When system retrofits need to fit into a pre-defined space or existing enclosure, we provide the engineering and assembly on the terminal block layouts and wire numbering so that existing field wiring can be reused. We also save you money with our lower overhead and lower markups on system components versus the major drive manufacturers.

Whether it's on-site system commissioning, system analysis and specification and detailed design, environmental packaging for pre-fab buildings, MCC lineups or hazardous area designs, the professionals at QDS Systems have what you need. We support your business needs 24/7 every day of the year.