Engineering Drive Systems
For a Quality Solution
Flexible Solutions and Reliable Products for Engineered Drive Systems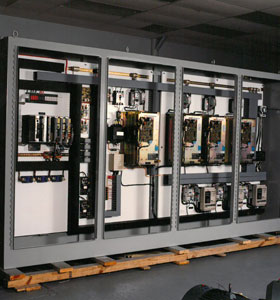 At QDS Systems, we know it's not easy finding reliable products and solutions for engineering drive systems. That's why we work so hard to make it easier for you. Whether you need help converting older analog drive coordinated systems to new digital designs, retrofitting motors to new designs, retrofitting systems to fit into pre-defined spaces, or integrating communication networks with MCC packaging, we have the products and expertise you need.

The engineering drive system solutions from QDS Systems are designed for reliability and have a short mean time to repair. Our engineers have expertise in the process industries, including coordinated web process drive systems and we specialize in retrofits and updates of obsolete and aging drive and related control systems. We offer common bus DC and other regenerative drive system designs.
The expert engineered drive system solutions from QDS Systems include:
system analysis and specification
control/PLC/HMI and drive system detailed design and fabrication
packaging options (environmental packaging, pre-fab buildings, MCC lineups, hazardous area designs)
on-site system commissioning and system training for operators and maintenance personnel, and
cellular remote support packages
Call to Action Block
Our experienced staff has a broad knowledge of the strengths and weaknesses of major manufacturer's drive systems, and, because of this, we can more smoothly connect one manufacturer's drives with another manufacturer's process systems. This allows us to select the best value hardware for the job from among leading manufacturers. What this means for our customers is greater flexibility and responsiveness, particularly in the critical design and commissioning stages. It also means cost savings thanks to lower overhead and lower markups for system components.

QDS Systems can package a turnkey solution that meets all your engineering drive system needs. With our long-term preventative maintenance contracts and our 24/7 on-site and remote support, why go anywhere else?