Variable Frequency Drives
For a Quality Solution
Responsive, Flexible, and Cost-Effective and Proven Results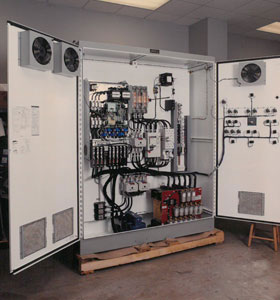 With more than 30 years of industry experience with variable frequency drives, QDS Systems is your one-stop shop for variable speed drive solutions. We specialize in retrofits and updates of obsolete and aging drives, converting analog and obsolete drives to current drives, retrofitting motors, and offering regenerative drive system designs.

We carefully plan retrofit systems and typically reuse existing cabinetry, operator devices, motor control and field wiring for a cost-effective solution – all within a narrow time span. Our variable frequency drive solutions are designed for performance, efficiency, and the ability to withstand harsh environmental conditions.
QDS Systems has expertise in everything related to variable frequency drives, including:
drive and control system design, engineering, and implementation
AC/VFD. DC, eddy current electric drive systems
hoist and winch fail-safe integrated brake and safety system designs
classified environment Div I and II drives; purged and pressurized designs, and
DCS implementations, PLC Logic programming and HMI programming.
Call to Action Block
QDS Systems provides application analysis and specification, drive system detailed design and fabrication to UL508 and 698 standards, on-site system commissioning and training for operators, and long-term preventative maintenance contracts – all with 24/7 on-site and remote support services.

Our vast knowledge of major manufacturers and control systems allows us to smoothly connect one manufacturer's drives with another manufacturer's process systems including DCS, PLC and PC-based master control, motor controls, and related instrumentation. Our industry experience means greater flexibility and responsiveness, particularly in the critical design and commissioning stages. This ensures QDS Systems customers get the best value drive for the job.