Pulp and Paper
Superior Pulp and Paper System Integrator
Integrated Solutions for Pulp and Paper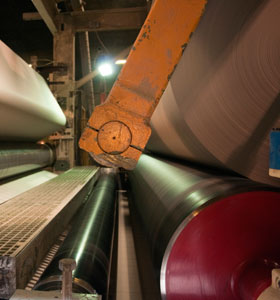 Industries looking for a state-of-the-art pulp and paper system integrator can rely on the CSIA-certified experts at QDS Systems to provide what they are looking for. Our goal is to solve customer problems and we have been doing just that since 1996. Through our in-house engineering expertise and significant depth of knowledge (we are both a licensed engineering firm and a licensed electrical contractor), QDS Systems helps clients maximize their uptime and system reliability thereby increasing profits.

At QDS Systems we understand the importance the pulp and paper industry places on reducing downtime and maintaining quality while complying with regulatory requirements. Our lean systems engineering capability and broad knowledge of control systems and vendor independence allows us to package best in class systems while maintaining EPA environmental compliance. We have provided paper machines drive systems, winder drive systems, roll handling systems, various pulp mill drive systems as well as water / wastewater treatment systems.
Our project management and installation includes:
Control, instrumentation and related power systems engineering design
UL508A and 698A control panel fabrication
DCS/PLC/HMI design and configuration
AC and DC variable speed drive control systems design, fab and commissioning
Project/installation management
SCADA and wide-area telemetry systems
Data logging and reporting systems
Communication network design
Support for DeviceNet, Profibus, ControlNet, Ethernet, Fieldbus, Modbus
System commissioning
Operator and maintenance training
Commitment to a higher standard as CSIA Certified integrator
Call to Action Block
With our maintenance service contracts and our 24-hour emergency callout service, we provide 24/7 drive, control and instrumentation support to the industry. We understand the "how", the "what", and the "why" of a system and QDS Systems supports projects through the system's entire life cycle.

Pulp and paper industries wishing to reduce operating costs, simplify system operations, upgrade or retrofit legacy systems, or expand plant capacity – all with minimal interruption to normal schedules – have come to depend on a quality solution from the trusted professionals at QDS Systems.